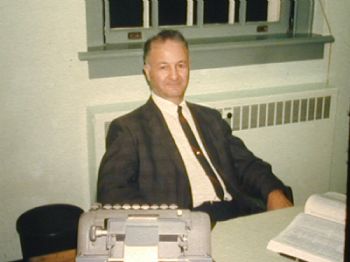 This is my grandfather. Today was his birthday. He would have been 102. He passed away 7 years ago this December. I was very fortunate to have him in my life as long as I did. He is the great-grandparent that my children remember the best.
His name was William E. "Pat" Boyer. He carried the mail, by foot with a big satchel, in our little town for many years. It was hard work, considering we get about 100 inches of snow annually. The children around town used to come running out of their front doors when they saw him coming up the walk with their mail.
This picture was taken on the day he started working at his dream job, Postmaster in our town. He was so proud! While he was Postmaster, he worked hard with "the Politicians" to double the size of our post office and make it accessible to all.
He was a true Renaissance man, who could do darned near anything. He rode motorcycles, and could build houses, and fix cars, and garden, and started a radio station that is still running today. He loved to go camping!! He adored babies, they always made him tear up. He remembered who built the houses in town and who lived in them after the town burned to the ground in 1918. He picked out a "Charlie Brown" Christmas tree every year, and swore it was the best tree he ever saw. He had a great appetite and believed slathering anything in butter made it twice as good. He went blind due to glaucoma when he was in his 80's, but continued to take care of himself until his death. He got books on tape and stayed current with what was happening in the world.
He was opinionated, informed, kind, loving, patient, devoted, loyal, faithful, funny, handy, a gentleman, and the kind of man you hope your daughter will find someday. We all loved him like crazy, and miss him even more.
The most important lesson I learned from my Grandpa is to treasure each and every day you have with your family and friends. He taught me that lesson by example.
Happy Birthday, Grandpa